Assessing Governance and Culture: become an OM30 practitioner
The OM30 opportunity
The global OM30 is a unique, whole system diagnostic instrument that has been used by a wide variety of organisations and professional services firms to connect governance, culture and human capital to sustained, differentiated value creation and better risk management.
As an in-house or specialist adviser, OM30 specifically allows you to:
Develop new in-house capability or client opportunities
Design internal operations to enhance value and manage risk, or develop new market offerings across differing organisational contexts
Better position and tailor existing corporate operations or your own products and services
Build deeper internal or external client relationships across multiple stakeholders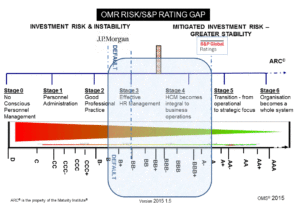 Your investment
Investment in OM30 is simple and extremely low risk (our partners generally only see upside potential).
In the first instance, it is a modest investment in your (and your colleague's) own development by becoming a member of the Maturity Institute. Many people are doing this just to grow their professional expertise and to belong to MI, a unique global institute setting the highest standards in effective leadership and management practice.
After this, your costs are funded by your company's (or client's) investment. We will help you to build internal functional capability in G&C to assess your maturity and set strategic roadmaps for value improvement and better risk management. If you are a business adviser, we will help you to generate new business activity through OM30 projects and part of this new revenue will pay us an agreed hourly/daily/project rate to work with you and your team up to become proficient at OM30 analysis, producing diagnostic reports and entering the strategy implementation (value improvement) phase (where you can integrate and develop your existing business products and services).
Once you can run OM30 projects independently, you then pay our own partner organisation (OMS LLP) a license fee for your OM30 business. This also includes both OMS LLP's and our own Quality Assurance program to help you operate and develop this service to the very highest quality.
If you are interested in finding out more about becoming an OM30 practitioner please contact stuart.woollard@omservices.org