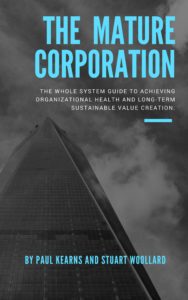 We are delighted that MI's Paul Kearns and Stuart Woollard have been commissioned by Cambridge Scholars to author a new book entitled "The Mature Corporation", which will be a comprehensive MI guide to how organisations can achieve true organisational health and create sustainable, long term Total Stakeholder Value. The book is due to be published in early 2019.
"The Mature Corporation goes to the heart of the crisis in current capitalism. Since the latter half of the 20th Century, companies have operated within a business system shaped primarily for the needs of narrow vested interests. Social legitimacy, provided by economic and financial theory, has tried to justify the pursuit of short term profits as a route to maximising both investment returns and ensuring corporate responsibility. This system has evidently failed. The Mature Corporation shows how individual organisations can now play their part in solving this systemic problem.
Boards and senior executives face acute challenges. The first two decades of the 21st Century have brought severe disruption and precipitated existential crises for many firms across many sectors. From energy transformation and rapid technological advances, to financial and corporate failures; social values and norms are being redefined, requiring that firms now put the needs of society first. Most organisations are failing to adapt their strategies to serve both the market and society, while corporate stakeholders are dramatically increasing the pressure for change. How can boards better understand in what manner they should move firms through this fast-flowing, shifting environment; with investors, customers, workers, suppliers and wider society demanding to work alongside?
The Mature Corporation describes a mutually inclusive, whole system, value paradigm where all stakeholders can benefit from corporate activity. Where true wealth creation, resource utilisation and sustainability go hand in hand. This book charts a sophisticated yet practical way forward for organisations needing to navigate the immense social and economic changes of the unfolding millennium. It details understandable and workable steps rooted in both new and traditional leadership and management practice, using examples from highly mature, exemplar firms. The Mature Corporation provides its answers drawn from an evidence-based analysis of hundreds of corporate, human ecosystems, and demonstrates how these fundamental sources of sustainable value creation can be properly and systemically aligned, to unleash enormous potential for long-term value."