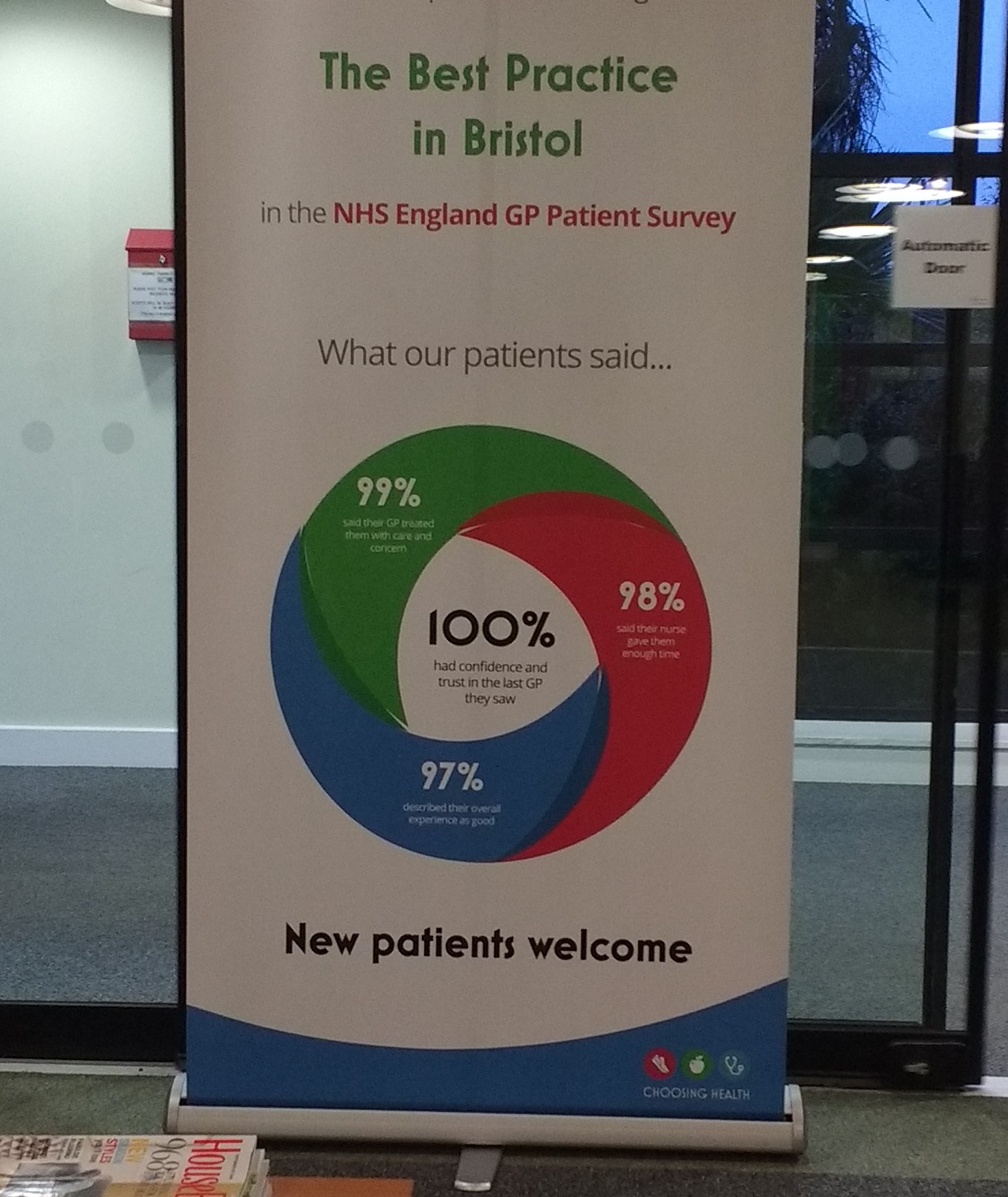 After checking in this morning, at the NHS community practice where I had an appointment with my GP, I found myself looking at this banner; informing me that the practice was thanking its patients for voting it as the No.1 in Bristol.
As a naturally sceptical and innately critical business analyst (and organizational maturity rater) all the percentages seemed very high but they actually accord with my own experience of being a patient there: all the staff are excellent.
Nevertheless, the 100% score was still a eureka moment. Every single one of the patients, who voted, "had confidence and trust in the last GP they saw." It suddenly hit me, after 40 years working in the private sector, that I was really struggling to name someone that I trusted 100%. More importantly, regardless of my own lengthy experience, all the research evidence collected for OMINDEX, over the last few years, points to unacceptably low levels of trust in politicians, governments, regulators, business leaders, executives, managers, accountants, auditors, HR, lawyers, bankers and the corporate world at large. Even where trust is relatively high, would anyone on this list believe that a 100% score from colleagues, suppliers and customers is anything more than just a theoretical possibility (or even desirable)?
This banner, representing the best among a highly valued, world leading, public sector organization, the UK's NHS, at a time when politicians have done their very best to undermine and demoralise dedicated, public sector staff,  has achieved something that most companies could only dream of.  Now that we know it is not only possible but attainable, 100% trust has to become the absolute goal for all professions.
The Maturity Institute has always modelled itself on the medical profession; this has just given me the confidence to say there are no longer any excuses.  New members who want to achieve this standard are always welcome.
By the way, my GP was 100% professional, dealt with all of my questions and I left as a well satisfied patient; all within the measly 15 minutes the accountants at the NHS allow.