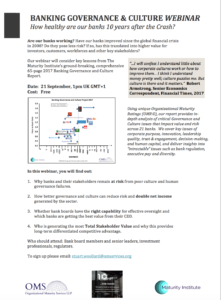 Are our banks working? Have our banks improved since the global financial crisis in 2008? Do they pose less risk? If so, has this translated into higher value for investors, customers, workforces and other key stakeholders?
Our free webinar will consider key lessons from The Maturity Institute's ground-breaking, comprehensive 65-page 2017 Banking Governance and Culture Report.
Date:   21 September, 1-2pm UK GMT+1
Download the webinar information sheet here
In this webinar, you will find out:
Why the whole banking system is still at risk from illegal employee behaviour.
How human governance failings create perverse banking cultures.
How better human capital management can double net income in banks.
Why bank boards have yet to develop an effective human governance capability.
Which banks are getting the best value from their CEO.
Which banks are generating the most Total Stakeholder Value for the long-term.
Who should attend: Bank board members and senior leaders, investment professionals, and regulators.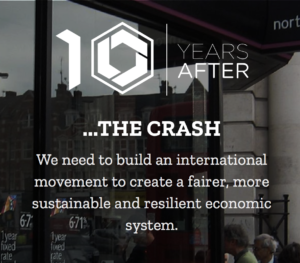 To register your attendance and receive the webinar login, please email Stuart.woollard@omservices.org
The Maturity Institute is a network member of 10 Years After the Crash and our webinar forms part of a series of events held on the anniversary of the Global Financial Crisis.