How do you explain an extremely complex subject in very simple terms that any ordinary citizen would understand? This is the challenge that I face every day as the Chair of the Maturity Institute.  The core message is simplicity itself but its communication is complicated by different stakeholders interpreting it in different ways.
MI's simple goal can be summed up as maximising value from all of the earth's resources while sustaining the planet.  Shareholders tend to view this question with scepticism – 'where do profits and our returns feature in this equation?' Investment managers will not recognise or acknowledge the 'maximisation imperative' as long as they can continue to make a good living out of 'better than average' returns. For accountants, it requires moving out of their comfort zone of P&L and balance sheet convention towards much more integrated reporting.
Regardless of the resistance we encounter, which is only to be expected, we all need to accept that we live in a time when corporate legitimacy is rightly under greater scrutiny than ever before: to the extent of seriously questioning whether the fundamental tenets of capitalism still apply.  The self-interest version of capitalism, that we seem to have arrived at, has to become a more coherent and cohesive form.  If the cohesive form of capitalism can be shown to be the highest value form then we can square the circle.  Such lofty ideals are based on sound sense and can be made very practicable, as long as corporate leadership can become mature enough to recognise it.
First, we have to make a fundamental distinction between profit and value.  Profits should no longer be accepted as a proxy for value and 'high' profits offer no guarantee of high value[i].  We can illustrate this by focusing on one, particularly important, social commodity – coffee.  So what is the value of coffee?  It is a daily staple with over 500 billion cups being drunk every year; a market worth over $100 billion[ii] and one estimate suggesting that  "Between 600 million and 800 million people worldwide depend on coffee production for their full or partial daily survival — or equivalent to at least 10 percent of the world's population."[iii]
This 'people' dimension is crucial to understanding maturity because value cannot be maximised unless all the people are behind that goal. So, consider your own perspective as a coffee drinker for a moment.  Value is always determined by your own personal perception and one person's 'value' might be another person's 'rip-off'.
I drink coffee every day.  As an economist I fancy myself as an ultra-rational consumer (although this can never be taken for granted).[iv]  So I want to get the best value coffee I can; as defined by my own perception.  At home, that means the best instant coffee at the best price. The coffee that currently fits that bill is Nescafé's Azera: more specifically the Intenso version.  Now, before anyone jumps to the conclusion that I am angling for a free, lifetime supply of coffee from Nestlé, please read on.
Nestlé purports to be creating shareholder value[v]  so it keeps trying to achieve the highest price it can (usually around £5/$6.50 for a 100g tin of Azera). Yet, as a value consumer, I am only prepared to buy it when they have their regular special offers of about half that price: it's good but it's not that good. So, like any business, Nestlé managers are engaged in a constant, competitive battle to get the right balance between the customer's perception of product quality and price level. However, some consumers' perceptions of value have little to do with the product's quality or its price; but rather how it is produced.
I know that Nestlé has slavery in its supply chain[vi] and yet that fact does not stop me buying their coffee. Other consumers will make up their own minds and may well do so thinking their purchasing decisions are more moral than my own.  I have to admit that my knowledge of Nestlé's slavery turns a relatively simple, monetary/quality definition of value into a much broader, value-laden, moral dilemma.  As the Chair of the Maturity Institute I am probably much more acutely aware than most consumers of the implications of my own behaviour.  So, how do I reconcile these apparently conflicting values – a Nestlé customer who abhors slavery?
Well, one thing I have done is a rating of Nestlé's maturity level (they are currently on a BB+), which highlighted that their operating margins are not as good as some of their competitors (and every 1% improvement in operating profit would be worth nearly $130 million[vii]).  I don't know all the reasons why Nestlé's margins are relatively poor but I do know that they could start raising their maturity level today by concentrating on the human causes of low margins. So why does Nestlé continue to turn a deaf ear to this simple and very obvious maturity message?  Surely better margins mean better profits and better shareholder returns? Isn't that in their own, declared interests?  It seems a simple subject can become unnecessarily complicated; for whatever reason.
When maturity analysis strips away the pretence of the primacy of shareholder value, Nestlé's corporate governance and behaviour is laid bare for all to see.  If Nestlé cannot see the obvious business sense in significantly improving their operating margins then what chance do we have of them addressing the wider moral issues?  What would motivate them to do something about slavery if not plain business sense? Maybe Nestlé's primary concern is not about building a long-term sustainable business model but avoiding bad PR?  Nestlé is not an isolated case: the 'norm' in the corporate world today are websites and annual reports replete with hype, PR and corporate spin.  This is organizational immaturity on a catastrophic scale: corporations are in denial. Deutsche Bank's current woes (and rated by OMS as B+ in June 2015, four grades below 'junk') do not seem to have altered their website's self-aggrandising declaration that their "Responsibility" is "Helping to build prosperous communities and economies."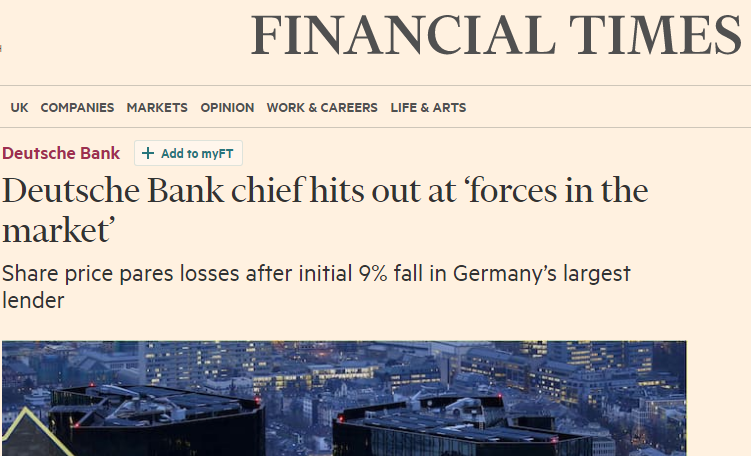 Despite an exponential increase in MBA and leadership programmes over the past 30 years we appear to have bred a whole generation of immature leaders who do not know which way to turn when confronted with the glaring inconsistencies in their own corporate goals and behaviour and society's radical re-definition of its expectations.
Maturity analysis has unearthed huge amounts of lost, human potential and value that are directly caused by leadership and management incompetence, relative to the new challenges we all face. The Maturity Institute is not here to name and shame but to raise maturity levels. The first step on that personal journey requires leaders at companies such as Nestlé and Deutsche Bank to make a simple, authentic admission of their own conscious incompetence. Then they can begin to get society back on their side whilst making significantly better returns.
[i] http://www.hrmaturity.com/is-the-social-responsibility-of-business-to-increase-its-profits/
[ii] http://www.businessinsider.com/facts-about-the-coffee-industry-2011-11?IR=T#worldwide-we-drink-over-500-billion-cups-of-coffee-every-year-2
[iii] http://spilling-the-beans.net/fascinating-fact-how-many-people-depend-on-coffee-production-for-their-daily-survival/
[iv] https://www.psychologytoday.com/blog/inside-the-consumer-mind/201603/the-myth-the-rational-consumer
[v] http://www.omservices.org/?s=Nestl%C3%A9
[vi] https://www.theguardian.com/sustainable-business/2016/feb/01/nestle-slavery-thailand-fighting-child-labour-lawsuit-ivory-coast
[vii] http://www.nestle.com/asset-library/documents/library/documents/financial_statements/2015-financial-statements-en.pdf