Part 5 in our 'BRT' series – see parts 1, 2, 3, 4
In Part 3 of this series I explained some of the broader implications stemming from The Business Roundtable's (BRT) 'Statement on the Purpose of a Corporation'. Now we need to look in more detail at how it has shifted the ground underneath the feet of every professional manager; and all of the professional institutions that provide their continuing education and professional development. We begin with HR and associated professions.
My own HR career started heading in this direction over 25 years ago when I needed better strategic measures for the work I was doing with HR and training professionals. After some years of development, I started to realise that the problems in people measurement were rooted much, much deeper in organizational psychology and organizational design. In short, even if HR professionals wanted to step up to the plate of strategic human capital management, their organizational context did not allow them to challenge conventional, financial accounting.
We now know this was because they were up against the apparently immovable barrier of the Friedman doctrine; and the immature management attitudes and behaviours it spawned. Friedman talked about profit but failed to define or measure value; so people were bound to be treated as a cost. Worse still, his simplistic thinking was based on a miscalculation that reducing people cost would automatically increase his preferred measure of profit.
Over the last 40 years there have been many attempts, within and outside the HR world, to address this nonsense; including adopting the term human 'capital'. Yet people are still shown in the accounts today as a cost; without any meaningful, counterbalancing measure of value.
Fortunately the 181, signatory members, of the Business Roundtable seem to be finally seeing sense. They have removed the Friedman barrier and granted their CHROs tacit permission to upgrade their professional status to that of 'Total Stakeholder HR'. So what does that entail? The statement itself makes only one specific commitment directed at "Investing in our employees."
"…. This starts with compensating them fairly and providing important benefits. It also includes supporting them through training and education that help develop new skills for a rapidly changing world. We foster diversity and inclusion, dignity and respect."
This does not herald the dawn of a new age of prosperity for all. The Maturity Institute (MI) regards it as just one, very basic, minium requirement for 'HR business as usual'. It only earns our default OMINDEX rating of BB- (a score between 35.0% and 40.00%). The lowest score among the BRT signatory corporations (we have already rated) is currently 36.58%. Only three achieve a rating of BBB- or higher (50%+). For comparison, our 'TSV' exemplars (Handelsbanken, Mercadona and Toyota) are already achieving ratings of AA- (80%+).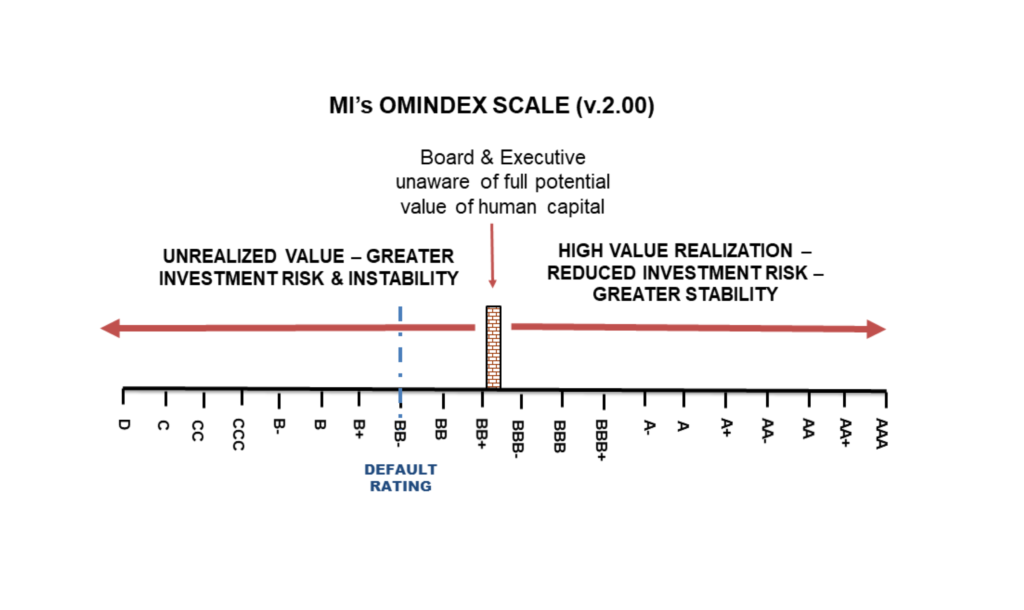 This has to be the new goal for CHROs as well as their CEOs, CFOs, CIOs, CMO's (and any other chief officers). 'TSV' HR is not a support function; it is a fully integrated component of any corporation aiming to maximise its finacial and societal value through a well designed Total Stakeholder Value System. If Friedman were alive today, he would already be able to see MI's evidence that mature exemplars score higher on financial returns as well as societal returns: they are mutually inclusive.
Fortunately, MI is already re-educating finance and investment professionals to make them aware of this fact. Indeed, it is precisely why my MI colleagues and I set up the Maturity Institute back in 2012. We have been working extremely hard to develop the new, higher standards necessary for true, strategic human capital management. We have also built the curriculum for the education and skills that 'TSV' CHROs will need.
If you already work in HR, or want a career change to the 'TSV' form now available, you can begin straight away by working through our first three textbooks. You can also receive direct tuition and start to network with like-minded professionals who are helping organizations today; to make significant improvements in their OMINDEX ratings tomorrow.
Contact Paul Kearns
MI Textbooks:
The Mature Corporation – A Model of Responsible Capitalism
Professional HR – Evidence Based People Management & Development
Organizational Learning and Development – From an Evidence Base