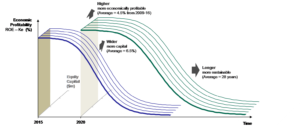 Maturity Institute (MI) and The KBA Consulting Group (KBA) announce collaborative project to combine the power of OMINDEX with the ability to understand value in terms of a Bow Wave of Expected Economic Profits delivered over the long term.
MI's OMINDEX ratings are increasingly recognised as a leading indicator of long-term organisational health. They provide a live metric for whole system, societal value used by investors, corporations and regulators – Total Stakeholder Value. OMINDEX reflects MI's philosophy that sustained value growth arises from realising the potential of all human management systems that are connected to and comprise an organisation's whole system.
KBA's Economic Profit (EP) Bow Wave construct looks at the value of a listed company in terms of expected returns, growth and the sustainability of both. It provides an accurate bridge linking the product and services market performance produced by management with the capital market outcomes experienced by investors. It can be utilised by investors, boards, executives and other key stakeholders.
Research centred on the EP Bow Wave construct demonstrates the importance of management taking action that seeks continually to enhance the sustainability of future EP streams. It also shows that to improve short-term capital market outcomes, the primary focus must be on improving long-term product and service market outcomes. Often, the key to this is harnessing innovation while building new organisational capabilities.
The Project
This initial project will examine how a company's OMINDEX rating links to the shape of a company's EP Bow Wave, and how that shape has changed over time. The change in shape of the EP Bow Wave is an indicator of improvement in an organisation's ability to create value for its customers and wealth for its shareholders on an ongoing basis.
The project will also assess how the EP Bow Wave profile across a sample of corporations relates to relative OMINDEX ratings.
The hypothesis to be tested is that higher, wider and. most importantly, longer EP Bow Waves are more likely to be found in higher rated OMINDEX firms. Such a finding will have a powerful and profound impact on how companies are valued. It will also provide compelling evidence in support of a greater focus on long-term sustainable value creation; as well as guidance on how that value can be created.
The project will begin with OMINDEX ratings and EP Bow Wave analysis in parallel, for 11 listed companies:
ABF
BAT
Danone
Diageo
Imperial Brands
Nestlé
Reckitt Benckiser
Sainsbury
Tesco
Unilever
WM Morrison
The initial findings will be combined in a short, preliminary report. Subject to successful completion of this first phase, MI intends to roll out the methodology across the entire FTSE100 during 2018.
MI invites parties from the investment and capital markets sectors to register their interest in this project with OMS LLP Managing Partner Stuart.Woollard@omservices.org
About Maturity Institute: MI provides a unique, evidence based approach to organizational health and the creation of Total Stakeholder Value. Our OM30 diagnostic instrument enables measurement and improvement of Total Stakeholder Value (TSV) created by organizations and provides ratings on OMINDEX: a comparative scale from D to AAA. Our work is multi-disciplinary and uses a whole system perspective, aiming to adopt the same level of evidence-based decision making to be found within the medical profession for human health.
About KBA  KBA helps boards and executives build enduring institutions that create value for customers and wealth for shareholders on an ongoing basis.  Its approach includes looking at listed companies through an economic performance lens and expressing their value in terms of a Bow Wave of Expected EP.  A book by KBA's principals entitled Customer Value, Shareholder Wealth, Community Wellbeing (Palgrave Macmillan, 2017) shows how the EP Bow Wave construct can be used by leadership teams setting out to construct companies that create real or authentic value for customers; build significant wealth for shareholders; and do both in ways that deliberately set out to enhance the wellbeing of all stakeholders – including employees, the wider community and the environment.  It can also be used by investors and asset managers to strengthen their process of engagement with listed companies.  The approach is summarised in this video.