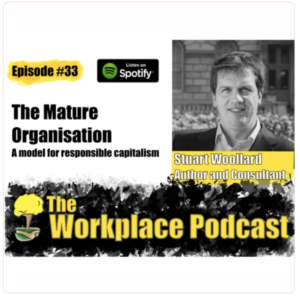 Stuart Woollard joins The Workplace Podcast host William Corless to discuss the Mature Organisation and how all companies can utilise Organisational Maturity as a model for responsible capitalism.
https://podcasts.apple.com/ie/podcast/episode-33-the-mature-organisation-with-stuart-woolard/id1540431146?i=1000523889896
The episode explains what Total Stakeholder Value means and how it should be at the heart of corporate purpose by truly understanding that human beings are fundamental sources of value. This includes employees and all stakeholders  – suppliers, customers, local communities; all the touch-points of any organisation. The episode explores how understanding the whole human system will realise the full potential of all those working relationships. Where people can fulfil their own potential and feel valued; managed with fairness and dignity, that encourages and can resolve fundamental challenges such as human rights, slavery, child labour, diversity & inclusion and whistle blowing.
Stuart also discusses ESG (Environmental Social Governance) as a new paradigm that replaces Corporate Social Responsibility, which must now be integrated into corporate and investment strategy. The episode considers organisations like Toyota, BooHoo.com, Amazon, Volkswagen, BP, Patagonia, PG&E, Walmart, Mercadona, Boeing, Apple and many more.