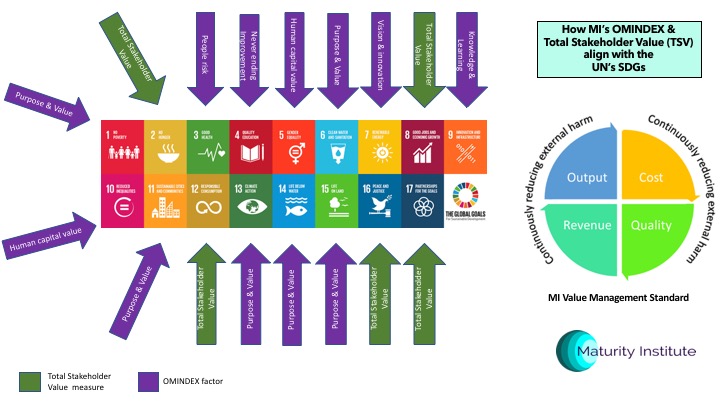 The UN has been working hard at making the world a more responsible and sustainable place since the 1970s and in 2006 it brought its thinking to investors with the introduction of 6 principles of responsible investment. These are designed to underpin the work of the investment community as it integrates ESG, "impact", or responsible and sustainable investing: aiming to assure the environmental, social and governance credentials of their investments. At a more practical level, the UN set out 17 Sustainable Development Goals (SDGs) in 2015; to which companies and investors can declare their commitment, by signing up or agreeing to embed them in their operations. The Maturity Institute (MI) fully supports these SDGs as valid and desirable societal goals. We also want to go further; to ensure more companies not only commit to them but are willing to have their progress measured and monitored effectively.
Everything that the UN's SDGs cover is encapsulated by, and incorporated within, MI's own framework, which produces a measure of unified, holistic social impact – what we identify as Total Stakeholder Value (TSV). We rate each company and measure their TSV via our OMINDEX methodology, and we continue to build a compelling evidence base to support the mutually inclusive premise that every truly responsible company can achieve the very best value outcomes simultaneously – in financial, human and environmental terms. The diagram above is a simple illustration of how every part of the OMINDEX and TSV framework can be linked directly to the achievement of each of the SDGs.
Yet our OMINDEX methodology is much more than just a statement of our alignment and commitment. It brings together a complete package of important developments that must work in concert: –
Maturity analysis is capable of distinguishing between a superficial commitment to the SDGs and an organization that builds them into its strategy and business model. It highlights the differences between a growing corporate tendency for 'greenwash' and a mature organizational mindset and culture of genuine and enduring support.
Even where there is authentic support for the SDGs, at a senior level, achievement is conditional on addressing the likely complications and complexities of formulating a long-term strategy, and business plan, that will enable the transition from a world of irresponsibility to one of sustainability married to high value. The OMINDEX diagnostic, the OM30, satisfies both of these conditions.
Once an OM30 plan is in place it enables the company to embark on a smooth and seamless change process, as it progresses along the OMINDEX scale of never-ending improvement, towards higher states of sustainability, financial performance and societal value.
In short, OMINDEX shows all stakeholders whether a company is in a state of sufficient readiness to bring the SDGs to life. Together with Total Stakeholder Value, it can measure the extent to which they are achieved or exceeded.
An OMINDEX rating is designed to determine each company's starting point, its own baseline, as well as the internal challenges it has to meet to become a truly mature and sustainable organization for a sustainable world. The SDGs were always intended to be voluntary but, as there is no downside to a higher OMINDEX rating, why would any company not want to adopt them? SDGs and OMINDEX offer the option to join a race to the top.